INFORMATION
Comfortable access is guaranteed to OCAT from anywhere in Kansai Area.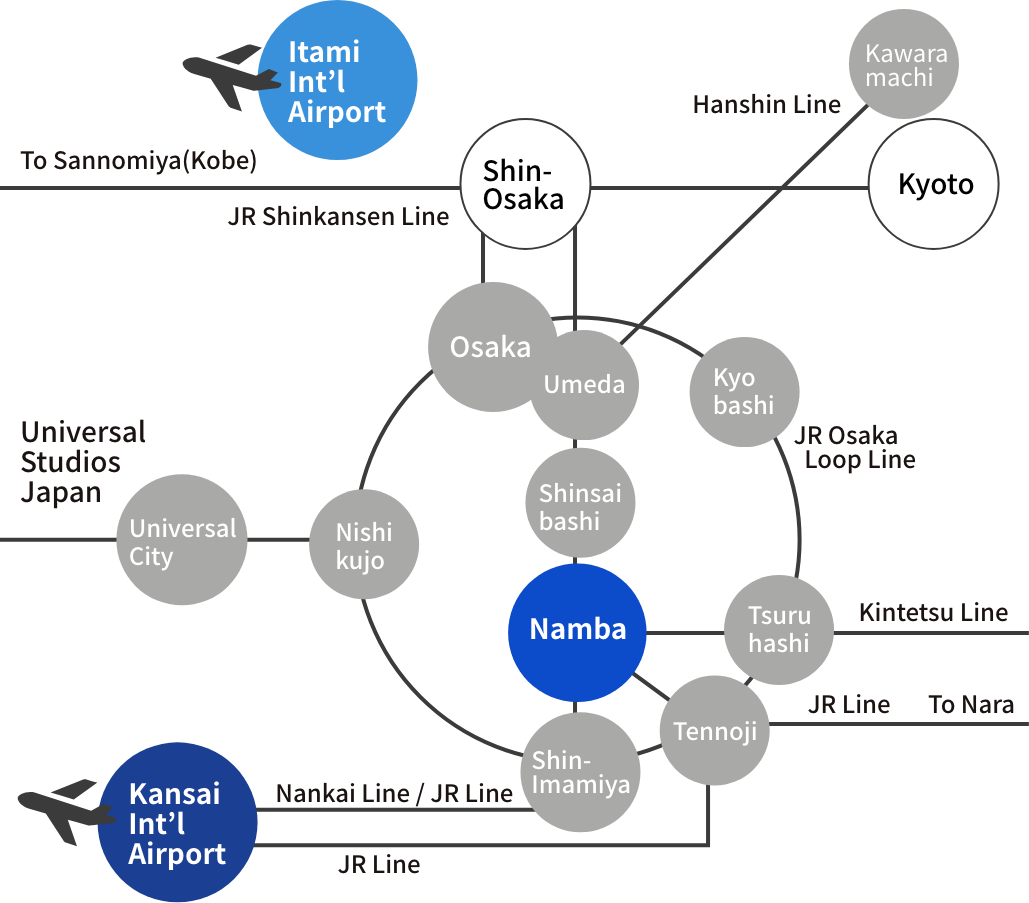 OCAT situated close to railway stations!
Getting off at "Namba Station" of Osaka City Subway "Midousuji-Line" "Yotsubashi-Line"(both north exit) "Sennichimae-Line"(west exit)and Kintetsu/Hanshin Line(west exit),
walking through "Namba walk" & "OCAT Walk" (both are underground walk connected to the stations),you get to OCAT within 2~5 miniutes from each of the stations
Parking

143 cars available on basement floor.
Parking Charge

250yen per 30 minutes
One day maximum charge 2500yen

Get 2 hours free parking when you spend more than 3,000 yen on shopping/dining in OCAT Mall. Present your OCAT parking ticket for validation at the point of purchase.
OCAT Mall

●Business Hours

Shopping 11:00~21:00
Restaurant 11:00~22:00

●Closed on

the third Wednesday of the month (December:12/31, January: 1/1)


※Some stores are open different days and hours.

OCAT Information(1F)

11:00~17:00
TEL.06-6635-3000

●OCAT website address

http://www.ocat.co.jp


※Please contact stores and offices directly.

●Terminal Information

JR NAMBA Station(B1F) TEL.0570-00-2486
(West Japan Railway Customer Center)
Railroad hub connecting OCAT and Nara / South of Osaka etc.

OCAT Underground Parking(B1F,B2F) TEL.06-6635-3079
Capacity for 143 cars and open 24 hours.

●Public Transportation

JR

JR NAMBA Station/Yamatoji Line
※Directly connected to OCAT (B1F)

Subway

Namba Station/Yotsubashi Line (2min. walk from the north gate), Sennichimae Line and Midosuji Line

City Bus

JR NAMBA Station ※In front of the bus stop.

Railway

Osaka Namba Station/Hanshin Electric Railway and Kintetsu,
Namba Station/Nankai Electric Railway

OCAT综合购物中心

●营业时间

购物 11:00~21:00
餐厅 11:00~22:00

●休息日

每月的第三个星期三为公休日 (12月的公休日为31号,1月的公休日为1号。)


※部分店铺的营业时间和公休日会有所不同。

OCAT综合客户服务站(1F)

11:00~17:00
TEL.06-6635-3000

●OCAT官网网址

http://www.ocat.co.jp


※可直接向各店铺及办公室咨询

●巴士终点站问讯处

JR难波站(B1F) TEL.0570-00-2486 (JR西日本顾客服务中心)
连接OCAT与奈良、南大阪等地的铁路枢纽

OCAT地下停车场(B1F,B2F) TEL.06-6635-3079
车位143个,24小时营业

●使用公共交通工具前往的人

JR

JR难波站/大和路线(关西本线)
※车站直接与OCAT(地下1楼)连接。

地铁

难波站/四桥线(在北侧检票口出站后,步行2分种)、千日前线、御堂筋线

市公共汽车

在JR难波站下车后即可到达

私铁

大阪难波站/阪神和近铁难波站/南海

OCAT綜合購物中心

●營業時間

購物血拼 11:00~21:00
餐廳 11:00~22:00

●公休日

每個月第三個週三為公休日 (但是12月的公休日為31日,1月的公休日為1日。)


※部分店鋪的營業時間與公休日有所不同。

OCAT綜合顧客服務站(1F)

11:00~17:00
TEL.06-6635-3000

●OCAT官網網址

http://www.ocat.co.jp


※可直接向各店鋪與辦公室洽詢

●巴士轉運站資訊

JR難波車站(B1F) TEL.0570-00-2486 (JR西日本顧客服務中心)
連接OCAT與奈良、南大阪等地的鐵路樞紐

OCAT地下停車場(B1F,B2F) TEL.06-6635-3079
車位數143個,全天營業

●搭乘大眾運輸工具前往者

JR

JR難波車站/大和路線(關西本縣)
※車站直接與OCAT(地下1樓)相連。

地下鐵

難波車站/四橋線(於北側票口出站後,步行約2分鐘)、千日前線、御堂筋線

市營巴士

於JR難波車站下車後,即可抵達

私鐵

大阪難波車站/阪神與近鐵難波車站/南海

OCAT 몰

●영업시간

쇼핑 11:00~21:00
레스토랑 11:00~22:00

●휴업일

매달 제 3 수요일 (단, 12월은 31일. 1월은 1일이 휴업일입니다.)


※점포에 따라 일부 영업시간•휴업일이 다릅니다.

OCAT종합안내소(1F)

11:00~17:00
TEL.06-6635-3000

●OCAT 인터넷 홈페이지 주소

http://www.ocat.co.jp


※각 점포 및 오피스에는 직접 문의하십시오.

●터미널 인포메이션

JR난바역 (B1F) TEL.0570-00-2486 (JR니시니혼 고객센터)
ocat와 나라,미나미오사카등을 연결하는 철로거점.

OCAT 지하주차장 (B1F · B2F) TEL.06-6635-3079
143대 수용, 24시간 영업 지하주차장

●공공교통기관을 이용하시는 분은

JR

JR난바역/야마토지선(간사이 본선)
※OCAT(B1F) 직결

지하철

난바역/요츠바시선(북쪽 개찰구에서 도보 2분)•센니치마에선•미도스지선

시버스

JR난바역 하차 바로

민간철도

오사카난바역/한신•긴테츠 난바역/난카이
Osaka OCAT Post Office大阪OCAT内附设邮局大阪OCAT內附設郵局오사카 OCAT 내 우체국

1F

●Open Hours 10:00~18:00 Closed on 1/1~3,5/3~5
●ATM,CD
Weekdays 8:00~21:00 Saturdays/Sundays/Holidays
(Deposit 存款 存款 입금) 9:00~17:00
Closed on 1/1~3 Contact:TEL. 06-6641-0707

※ATM and CD open hours may change.※一部分ATM、CD(自动付款机,功能比ATM简单)的营业时间会有变更。※某部分ATM、CD(自動付款機,功能較ATM單純)的營業時間可能出現變更。※ATM•CD 영업시간은 일부 변경될 수 있습니다.

Tourist Information综合观光咨询处綜合觀光資訊中心관광종합안내소

1F

Information/Reservation for a meal/Reservation for a hotel/ Sale of ticket/WIFI Rent/Bus tour/Taxi tour/Money exchange/Charge
Open Hours 8:30~20:00
(Open Every Day 全年不休息 全年無休 출연중무휴금)
Contact: OCAT Tourist Information Center
TEL. 06-6684-9330

2F

Baggage Room/Home-delivery Service Available
可以暂时存放手提行李,并提供邮寄服务。
可以暫時寄放手提行李,並提供宅配服務。
수하물 일시보관소•택배서비스를 이용하실 수 있습니다.
Open Hours 8:00~21:00
(Open Every Day 全年不休息 全年無休 출연중무휴금)
Contact: Yamato Transport Co., Ltd. TEL. 06-6631-0256

Foreign currency exchange外币兑换外幣兌換외화 환전

1F

Next to Multi Monitor
多功能大屏幕旁边 多功能大屏幕旁邊
멀티비전 옆

B1

●Bank of Tokyo-Mitsubishi UFJ
三菱东京UFJ银行 三菱東京UFJ銀行 미츠비시 도쿄 UFJ은행
●Seven Bank Seven银行 Seven銀行 세븐은행
●E-net
●AEON Bank AEON银行 AEON銀行 이온은행

1F

●Japan Post Bank 邮政银行 郵政銀行 유초은행
●Seven Bank Seven银行 Seven銀行 세븐은행

Free Wi-Fi免费Wi-Fi热点免費wi-fi熱點Free Wi-Fi 존"

You can access "Osaka Free Wi-Fi" inside OCAT.
OCAT馆内可以使用"Osaka Free Wi-Fi"。
OCAT館內可以使用「Osaka Free Wi-Fi」。
OCAT관내에서 <Osaka Free Wi-Fi>를 이용하실 수 있습니다.

B1

Near Saizeriyac
萨莉亚 附近
薩莉亞 附近
사이제리야 부근

1F

Near OCAT Information
OCAT综合客户服务站 附近
OCAT綜合顧客服務站 附近
OCAT종합안내소 부근

2F

Near But Stop #5 and #8
⑤号、⑧号巴士站台 附近
⑤號、⑧號巴士站台 附近
⑤번, ⑧번 버스 승강장 부근

5F

Near North Elevator and Waterfall Plaza
北面电梯、瀑布广场 附近
北面電梯、瀑布廣場 附近
북쪽 엘레베이터, 타키노 히로바(폭포 광장) 부근